Collaborate with us to invoke and fully manifest Srila Prabhupada's Vani-presence.
---
Category:Caitanya Mahaprabhu - Umbrella Category
From Vaniquotes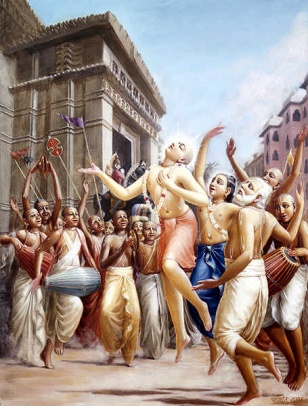 Previously Vanipedia had 64 categories exposing the nature, qualities and pastimes of Lord Caitanya.
On the 15th of May 2017 we started the massive effort to complete the indexing of Lord Caitanya.
The creation of more categories and the linking of all the relevant pages is now ongoing.
As of the 15th of October 2018 we now have over 1770 categories. This is what you see below.
No pages are linked to this Umbrella Category. Pages are linked to the subcategories.
In 1968 Srila Prabhupada printed the summary study of the Sri Caitanya-caritamrta titled The Teachings of Lord Caitanya. In 1973 the first volume of full expose of the Sri-Caitanya-caritamrta was printed. The completion of this set of 17 volumes was achieved in 1975 when devotees rallied forces to produce 15 volumes in 2 months. In May, June and July of 2017 Vanipedia took each of the 11,519 translations of Sri Caitanya-caritamrta and created 12,141 pages - following our thematic mapping principle that we do in Vaniquotes.
Subcategories
This category has the following 1,775 subcategories, out of 1,775 total.
Pages in category "Caitanya Mahaprabhu - Umbrella Category"
This category contains only the following page.